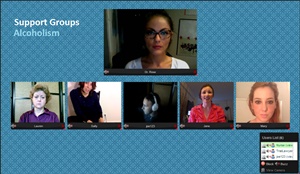 For many people in recovery, the most difficult thing about staying sober is getting to the AA meetings. A new company, BrightBod.com, is looking to remedy this.
BrightBod.com is now paying sober people to lead a free 30-minute video conference meeting. This is easily done in front of their own computers, and helps other people (and themselves) stay sober. It's free to join, and you can contact them for more details at: info@BrightBod.com.

How BrightBod Can Help
If you live in a big city, it is generally easy to find an Alcoholic's Anonymous meeting. Unfortunately, it can often be hard to get there. In a small town, it is very difficult to get to one of those AA meetings when you really need one.
As we all know, people often need each other to stay sober. Now, with BrightBod, you can have a meeting (and connect with another recovering alcoholic) without leaving your home.
On the Internet, it is usually easy to find a prerecorded AA or NA speaker meeting. The problem with a prerecorded meeting is, while it is better than nothing, it does not give us an opportunity to contribute to the meeting and, in turn, to help another alcoholic.
This makes it impossible to carry the message to an Alcoholic who is still suffering. As the 12th Step states: "Having had a spiritual awakening as the result of these steps, we tried to carry this message to alcoholics…" Now, even if we don't have access to transportation and therefore, cannot get to a meeting, we can still carry the message.
AA Meetings Help Alcoholics Stay Sober
You can also help by joining BrightBod.com for free. They're trying to help people stay clean and sober by having a helpful community in place that can come to the rescue when we're having a tough day.
Lead a meeting once a week (for 30 minutes) and get paid. You'll be helping others to stay sober and you'll be helping yourself, as well. For more information, please email them at: info@BrightBod.com. ♦